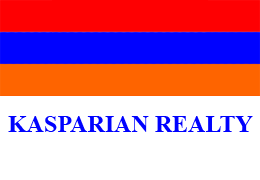 2025 Taraval Street
San Francisco , CA 94116

(415) 664-6040 Bus.
(415) 664-2829 Fax
(415) 706-7851 Cell

4425 Blackford Ave. #1
San Jose , CA 95129

(408) 777-8775 Bus.
(408) 777-8777 Fax
(408) 505-7178 Cell
COMPANY PROFILE
Kasparian Realty was founded on January 1990, and is proud of its accomplishments, and the legions of satisfied repeat clients throughout the Bay Area.
SERVICES:
Kasparian Realty provides expertise in the following types of Real Estate services.
Single Family Homes
Condominiums
Townhouses
Notary Services
Investment Property
Property Management
Relocation
Mortgage Financing
SERVICE AREA:
Kasparian Realty provides services in the following counties:
Santa Clara County
San Francisco County

San Mateo County
Souther Alameda Couny
MULTIPLE LISTING SERVICES:
Kasparian Realty is a member of the following Multiple Listing Services (MLS):
MLS Listings (Covers the following counties: Santa Clara, San Mateo, San Benito, Santa Cruz and Monterey)
Rapattoni (Covers San Francisco County)

MEMBER AFFILIATIONS:
Kasparian Realty is a member of the following Real Estate Boards and Affiliations:
Santa Clara County Association of Realtors
San Francisco Association of Realtors
California Association of Realtors
National Association of Realtors
National Notary Association
MORTGAGE SERVICES:
Kasparian Realty provides complete mortgage services through Broker One Mortgage Co.; a full service mortgage company with access to over 100 lenders ((Banks, Mortgage Bankers, Hard Money Private Lenders) and has proven to have ability to handle the following types of loans.
Residential
Investment
Private Loans
Fixed Loans
Variable Loans
Home Equity Loans